39 Foster
(description | floorplan | photos | map | contact )
Experience the real Chautauqua! 39 Foster is a classic, flower-decked Victorian in one of the Institution's most charming neighborhoods. This cozy residence is a perfect home base for experiencing the true Chautauqua. The circa-1895 structure has been treasured by our family for decades. We're sure you will love it as much as we do!
In addition to a spacious front porch that comfortably seats six (and accommodates eight) for al fresco dining, 39 Foster offers a cozy and attractive screened living porch on second floor large enough for dinner for four. Kitchens on both floors feature full-size refrigerators, four-burner gas stoves, dishwashers, microwaves, coffee makers and everything you need for cooking. Central location in Old Chautauqua between Amphitheater and Hall of Philosophy, a few steps to corner tram stop. No smoking. No pets. Parking for one car.
Our goal is to provide everything you need for a comfortable, memorable Chautauqua vacation. The neighborhood is perfect for everyone from grandparents to kids, with neighbors who are friendly yet respectful of everyone's privacy. The Children's School bus stops a block away at Lincoln Park, and trams stop just steps away at the corner of Foster and Wythe. Come join us at 39 Foster for an authentic and culturally stimulating Chautauqua experience!
The house: Rent the entire house or just the upper or lower floor (private entrance to upper floor via outdoor stairs; separate full kitchen on upper floor). WiFi throughout. Three bikes available for guest use.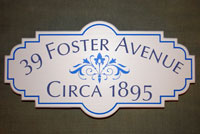 First floor: Porch with dining table and eight chairs; living room featuring beautiful windows with original glass; indoor dining room (in addition to dining table on porch); full kitchen; sleeping for up to four (one bedroom with twin beds, which can also be made up as one king bed, and one with bunks); one and a half baths.
Second floor: Sleeping for up to six in three bedrooms (one with twin beds, which can also be made up as one king bed, one with daybed and trundle, one with bunk beds); full kitchen with washer and dryer; full bath; cozy screened porch with dining table and six chairs.
Climate Control: Bedrooms feature window AC units. First-floor gas heater takes the chill off on cool Chautauqua evenings.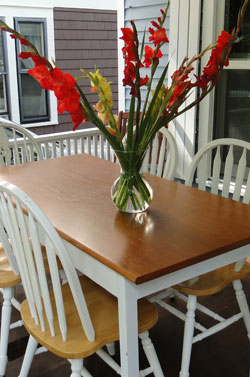 Location: One block from the Brick Walk, halfway between the Amphitheater and Hall of Philosophy, between Wythe and Warren Avenues.
Parking & Yard: Guests may purchase a pass from Chautauqua Institution for one parking space with rental of entire house. With rental of just upper or lower floor, guests purchase parking in one of the institution's nearby lots. Small, grassy yard with charcoal grill.
Decoration and Furnishings: The house is fully furnished and decorated in a traditional "Old Chautauqua" style and color palette, including some antiques.
Cleaning: The house is carefully cleaned for each tenant by personally chosen helpers who have been with us for many years. They know what clean is!
Laundry: Upper floor kitchen features washer and dryer. For rentals of lower floor only, Laundromat "The Soap Opera" is a five-minute walk (near the bike rental).
Supplies: The house is fully equipped with linens, towels, dishes, flatware, and cooking utensils. You don't need to bring anything; just unpack and enjoy your Chautauqua vacation.
No pets. No smoking. Out of consideration for other guests, we do not allow pets or smoking on the property.